Achieve a Brilliant Smile with Professional Teeth Whitening Treatment
If you would like a brighter, more brilliant smile, a professional teeth whitening treatment at PQ Family Dental can lighten your teeth by several shades. Drs. Tim Belnap and W. Brandon Jergensen provide in-office teeth whitening solutions at our Rancho Peñasquitos and Ramona, CA, locations as well as offer convenient at-home kits. Supervised treatment is a better alternative to store-bought products, as it enables us to select the level of bleaching agent for your unique dental needs. We can perform a stand-alone whitening procedure or incorporate teeth whitening into a smile makeover plan for more comprehensive results.
What Can Whitening Treat?
There are two types of stains that cause dental discoloration: extrinsic and intrinsic. Extrinsic stains affect the surface of the tooth, and are typically caused by lifestyle factors such as food, beverages, and smoking. Dentist-supervised teeth whitening can be very effective at diminishing or completely eradicating extrinsic stains.
In comparison, intrinsic stains are typically caused by trauma or certain medications, and affect the inside of the tooth. This type of stain is often resistant to bleaching. However, Drs. Belnap and Jergensen offer dental bonding or veneers to brighten smiles when teeth whitening is not sufficient.
Benefits of Supervised Treatment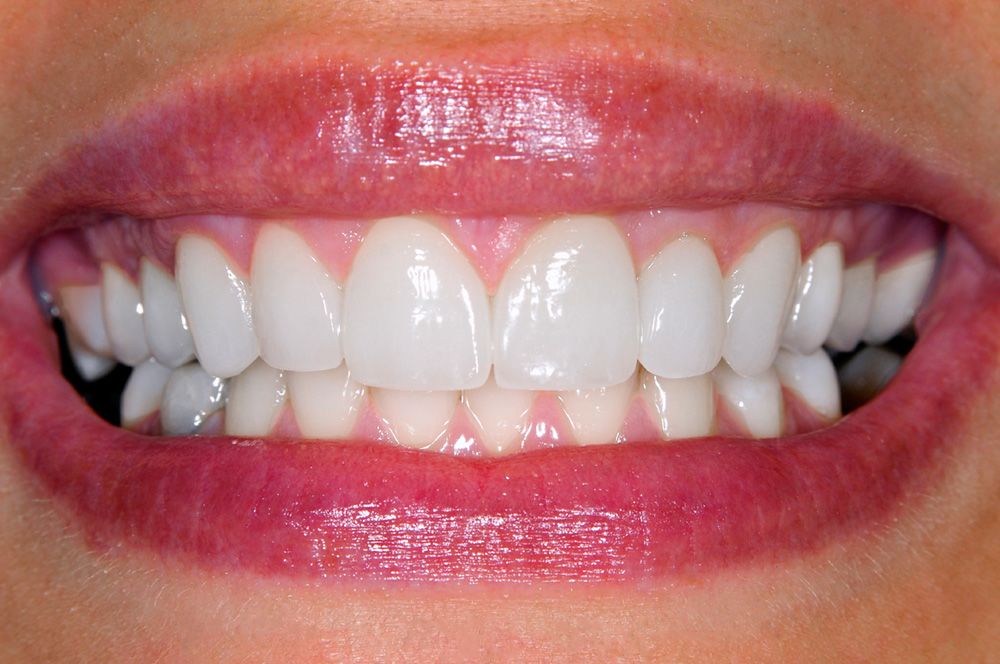 Professional whitening treatments contain a higher concentration of bleaching agent, making them more powerful than most over-the-counter options. However, we carefully monitor the levels of peroxide to minimize or prevent dental sensitivity. We also offer an at-home option designed to fit into your schedule. By choosing PQ Family Dental for your whitening needs, you benefit from the Philips Zoom! system, a brand trusted for its safety and effectiveness.
Choosing Your Treatment
We provide both in-office and at-home whitening treatments, allowing you to choose the method that best fits your needs. In-office procedures typically produce dramatic results after a single session. At-home treatments use a lower concentration of peroxide to avoid dental sensitivity, meaning it takes more treatments to achieve the same shade as an in-office procedure.
Dentist-supervised whitening can offer more predictable and longer-lasting results than over-the-counter products, allowing you to achieve your aesthetic goals.
Many patients prefer the convenience of whitening in their own home. However, patients with bruxism (teeth grinding) or temporomandibular joint (TMJ) disorder may find their condition is aggravated by the at-home trays. In such cases, our team will likely recommend in-office whitening treatment.
Dramatic Results in the Office
When you undergo an in-office bleaching procedure, your hygienist will first clean and prepare your teeth. Then Dr. Belnap or Jergensen can place a protective cover over your lips and gums, so only your teeth are exposed. Whitening is performed in intervals. Your doctor can apply a layer of whitening gel and then use a specialized light to activate the bleaching agent. He can then remove the gel and repeat the process as needed. We may recommend combining your in-office treatment with at-home trays for more dramatic results.
Convenient Treatment at Home
Whitening at home is typically less expensive than treatment in the office. We provide you with your own set of whitening trays customized to fit comfortably in your smile. When you are ready to start treatment, simply fill them with whitening gel and wear them for the prescribed time period. Over the next few weeks, your smile will gradually lighten until you reach the shade you desire.
Safe and Effective Treatment
Dentist-supervised whitening can offer more predictable and longer-lasting results than over-the-counter products, allowing you to achieve your aesthetic goals. At PQ Family Dental, we choose only trusted whitening brands to protect your oral health as well as enhance your smile. If you are interested in learning more about your whitening options, call our Rancho Peñasquitos office at (858) 484-9222 or our and Ramona office at (760) 789-6200 or contact our office online to speak to a member of our team.